The pandemic put a wrench in the plans of several East Valley high school football programs the last two years.
Many had sought matchups with opponents in California and other surrounding states before COVID-19 brought the closure of schools and restrictions that forced some programs to not field teams at all during the fall season. 
But that is now in the past, and several East Valley teams have made it a priority to start their respective football seasons outside of state lines. 
"It's a great opportunity to represent Arizona, the Mesa district and I'm excited we have a good opponent, too," first-year Red Mountain coach and alum Kyle Enders said. "There's something a little extra about this season being the head coach. We're going to represent the school and community well."
Among the many teams that will hit the road this week to various destinations are Red Mountain and Mountain View. The two Mesa schools will both road trip to California to take on some of the top teams the state has to offer. 
The Mountain Lions will be one of three total teams from the East Valley taking part in The Honor Bowl, a showcase in San Diego that begins Friday and concludes Saturday. Red Mountain will face San Diego's Mater Dei Catholic, the defending Division 2-AA state champion that went 13-0 last season. 
The Crusaders return several key contributors to last season's championship team, including 3,000-yard passer Dominic Nankil. 
On defense, Mater Dei Catholic has a talented secondary that will try to slow down Red Mountain's high-powered offense. Despite virtually its entire defensive secondary returning, limiting the dynamic duo of Red Mountain seniors Lennox Lawson and Ja'Kobi Lane will be no easy task. 
Lane is among one of the best wide receivers in the country while Lawson can play anywhere on the field for the Mountain Lions. Lane is ready for the challenge Mater Dei Catholic presents, especially after a busy summer that saw him compete against some of the top recruits in the country in the club 7s circuit. 
"They definitely have some guys that will be a tough matchup," Lane said. "But I think we have guys that can do the same to them and we have a scheme to go with it. If everybody is in the right spot it will all go in motion."
The chance to travel out of state will be unique for Red Mountain. It'll be the first time since 2015 the Mountain Lions are able to do it. 
From 2013-15, when Ron Wisniewski was at the helm of the program, Red Mountain faced Westlake from California the second week of the season. Enders was on staff during those three games, two of which took place in California.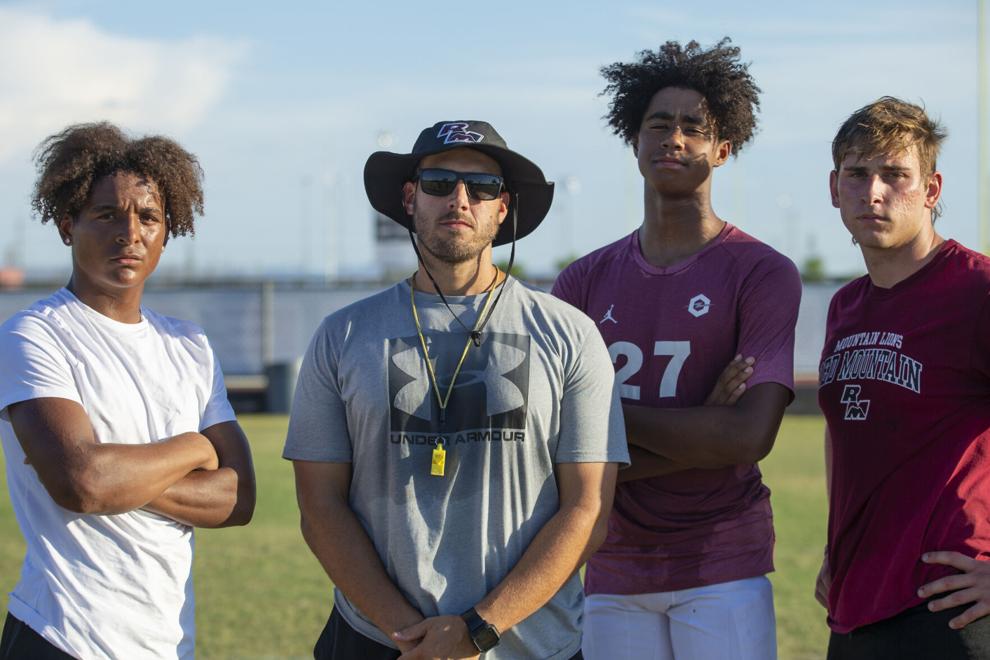 The final meeting between the two schools ended with a Red Mountain win. Now, Enders' players are hoping to continue the win streak against out-of-state opponents and have a little fun in the process. 
"I'm so excited," Red Mountain senior defensive end Braeden Kaczmarek said. "I get to see different competition instead of the same schools we usually play. It's cool to go to California. Good weather, goo players, it's exciting."
Shortly after Red Mountain's game comes to an end in San Diego, Mountain View will kick off just 30 minutes south at Helix High School, which lost in the postseason to Mater Dei Catholic last year. 
This will be the first trip out of town for the Toros since 1992, when they faced Hawaii power St. Louis when Jesse Parker was leading the program. Joe Germaine was a part of that Toro team, and now as head coach he's looking re-establish Mountain View's prominence in and outside of Arizona with a trip to California to open the season. 
"I think it's great for our program," Germaine said. "When Joe Goodman, our athletic director, had the idea a year ago to do this, he wanted to expose our brand to not just Arizona but outside of Arizona. We're excited for the opportunity. We're humbled by it, too, because of the team that we're playing. 
"It's a huge challenge that we're excited to be a part of."
Germaine knows Helix presents a challenge for his team. The Highlanders return quarterback Ryland Jessee and tight end Quincy Herron. Their defense was also young last season. 
Mountain View, however, is confident. The Toros return junior quarterback Jack Germaine for his first full season under center and Jackson Bowers, his big tight end that is committed to BYU, is just one of the weapons around him. 
Jack said he is looking forward to the opportunity to travel with the team. Along with winning, he is hoping to create memories for the program and get them started in a positive way this season. 
"It's a business trip when we step on that bus," Jack said. "It's going to be a great experience. We've gotten closer together as a team since we started in February. All the hard work we've put into this it's going to be great to go out there and show what we've done."
Queen Creek, Williams Field, Campo Verde, Chandler, Basha and Desert Vista are also hitting the road to California to open the season. Perry will travel to Nevada to face Las Vegas Spring Valley. Saguaro, meanwhile, will host New Jersey power Bergen Catholic. 
All of the out-of-state competition presents a chance for Arizona to prove itself on a national stage. 
Bowers is confident his team can come away from California with a win. He also knows his team can have fun in the process. 
"I think as a team we are going to have fun, but our main goal is to come away with a W," Bowers said. "I've seen some players and they definitely have athletes. With everything we do we need to be exact. We have to execute."
Have an interesting sports story? 
Contact Zach Alvira at zalvira@timelocalmedia.com and follow him on Twitter @ZachAlvira.